words & worlds, recently 🌞


---

Values & Practices is a collectively sourced and living set of agreements. It invites those of us who gather through the Center to ground ourselves in our visions for autonomous and liberated communities. The agreements are meant to be drafted and redrafted every year of the Center's life, with contributions and insights from folks who are part of the Center's community. In sharing this inaugural iteration, we hope you'll join us in naming and practicing liberatory ways of being and working, both within and beyond our emerging Center for Liberatory Practice & Poetry.


---
︎living resource library open calls:︎everyday & sacred: liberation in practice / queer diasporan speech / poetry persists, poetry sustains (2022)



Center for Liberatory Practice & Poetry's Living Resource Library is now accepting materials through three open calls: EVERYDAY & SACRED: LIBERATION IN PRACTICE; QUEER DIASPORAN SPEECH; AND POETRY PERSISTS, POETRY SUSTAINS.

The center's Living Resource Library compiles stories, rituals, and dreams as building blocks for autonomous and liberated worlds. In the library, you might find theoretical texts alongside resources for mutual aid, poetry, how-to guides, and other materials that emerge through the conditions and encounters of everyday life. Materials that expand the understanding of what a 'resource' can be are especially encouraged!

Original works as well as submissions of your favorite materials (with permission from the author(s) & publisher) are welcome. Any material submitted must either already be freely available through open-access or creative commons licensees and networks; have permission from the author and publisher to be shared; be publicly available on the web; or be yours to share and distribute.

Materials will be reviewed and added throughout Winter-Spring 2022 on a monthly basis. For initial inclusion in the first round of open calls, please submit your works by January 24th, 2022. All contributors will receive a thank you print in the mail. Learn more and submit your stuff <3

[image description: an animation of three scanned open notebooks piled on top of one another appear horizontally on the screen. the first notebook is yellow with green and orange handdrawn lines on it and black capital letters read, "everyday & sacred: liberation in practice." the second notebook is pink with magenta handdrawn doodles and black all capital letters that read, "queer diasporan speech." and the third notebook that appears on top is blue with purple handdrawn shapes and black capital letters thet read, "poetry persists, poetry sustains."]

---
are musuems obsolete? by press press (2020)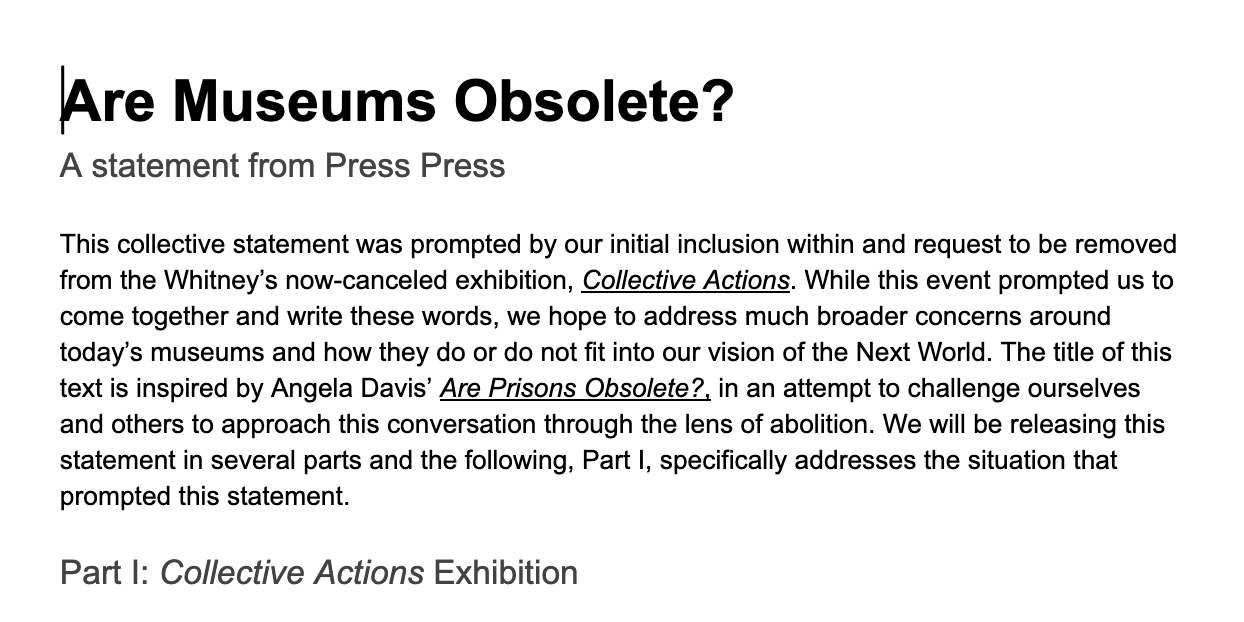 A collective statement from Press Press in response to the Whitney's cancelled exhibition, Collective Actions, and questioning the role of museums today.

---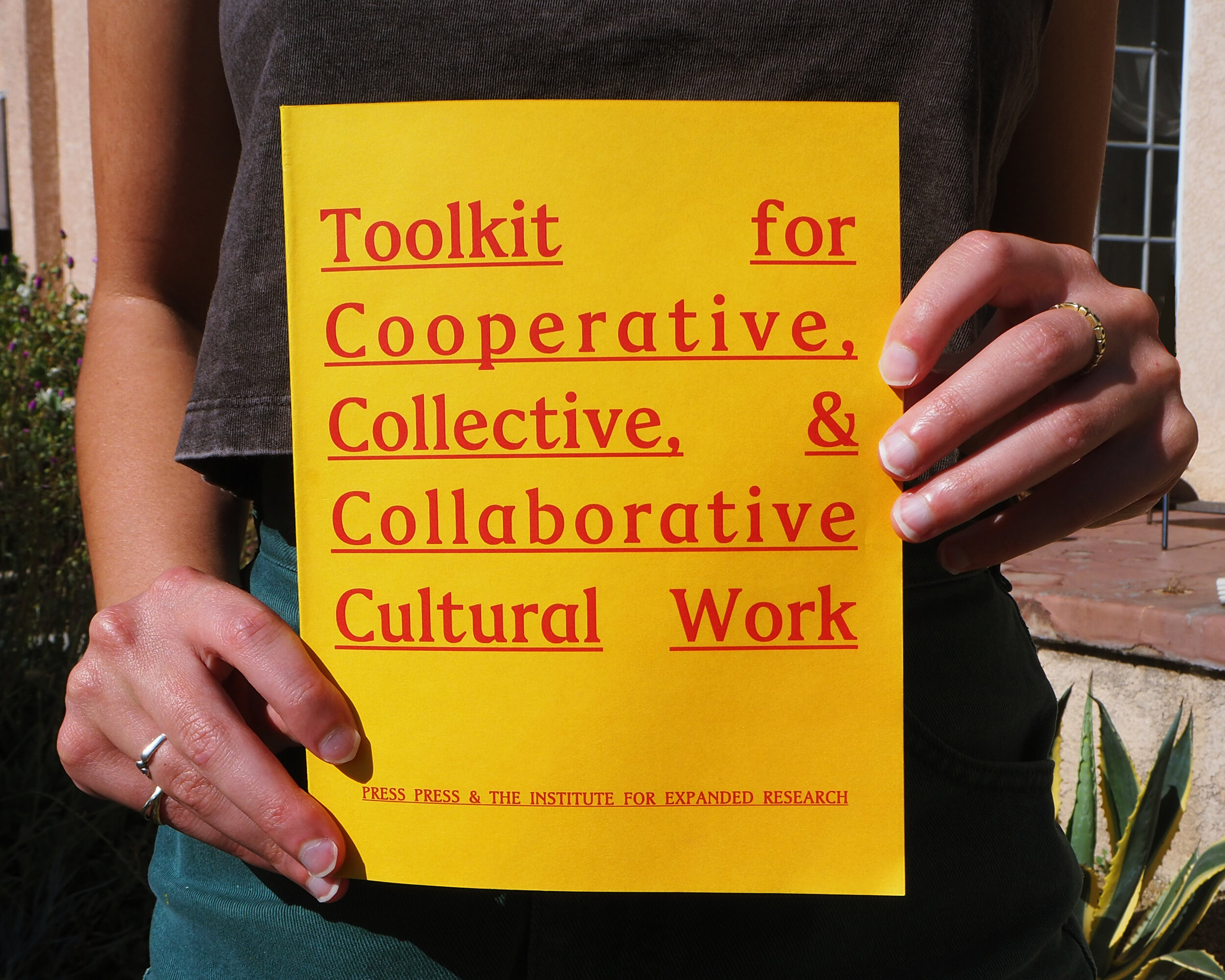 The Institute for Expanded Research and Press Press are excited to release Toolkit for Cooperative, Collective, & Collaborative Cultural Work, a new publication available for free online and for purchase through the HolSol online store.

Based on two workshops that gathered Baltimore-based cultural organizers, artists, musicians, and community-oriented practitioners, the project explores the challenges of collective cultural work and shares processes, advice, and resources on navigating various cultural, financial, and structural obstacles. In centering collective working methods that are so counter to the ideologies and frameworks that are encountered daily in a capitalist society, Toolkit aims to honor and embrace our fundamental interconnectivity and interdependence as human beings. At the heart of this work lies the understanding that wellbeing, integrity, equity, and care is a collective responsibility.

Toolkit is based on two workshops which gathered Baltimore-based people who are involved in cooperative, collective, or collaborative cultural work, including Allie Linn, Amy Reid, Bonnie Jones, C Kim (E'NB), E Cadoux, Tanya Garcia, Georgia McCandlish, Adriana Monsalve, Haniel Wides, Jacob Marley, Joseph Lee, Khadija Adell, Lu Zhang, Markele Cullins, N'Deye Diakhate, Priya Bhayana, and Rose Buttress. The workshops were facilitated by Valentina Cabezas, Kimi Hanauer, Bomin Jeon, and Bilphena Yahwon.

---


This past year, I began the process of initiating the Center for Liberatory Practice & Poetry (CLP&P), a virtual and nomadic education center that nourishes a network of shared learnings, dreams, strategies, and rituals as the building blocks for autonomous and liberated communities. Download a PDF of the welcome letter, CLP&P is one of many centers; an invitation; a constellation, to learn more about the project and how to get involved and explore more mindmaps.


---


Intimate Collectivity & Invisible Power was my contribution to Radical Softness as a Boundless Form of Resistance published by GenderFail Press in 2020.

---
peer review: reading rooms & librarys (2019)
Peer Review: Reading Rooms & Librarys was the first issue of a publication series co-founded by Press Press and Wendy's Subway.

---
the makings of: publics & liberation (2017)

the makings of: publics & liberation was the first conversation held at the newly opened Press Press storefront in 2016. It was co-published by Press Press and Temporary Art Review.

---
a tender talk: manifesto for tender collaborative work (2016)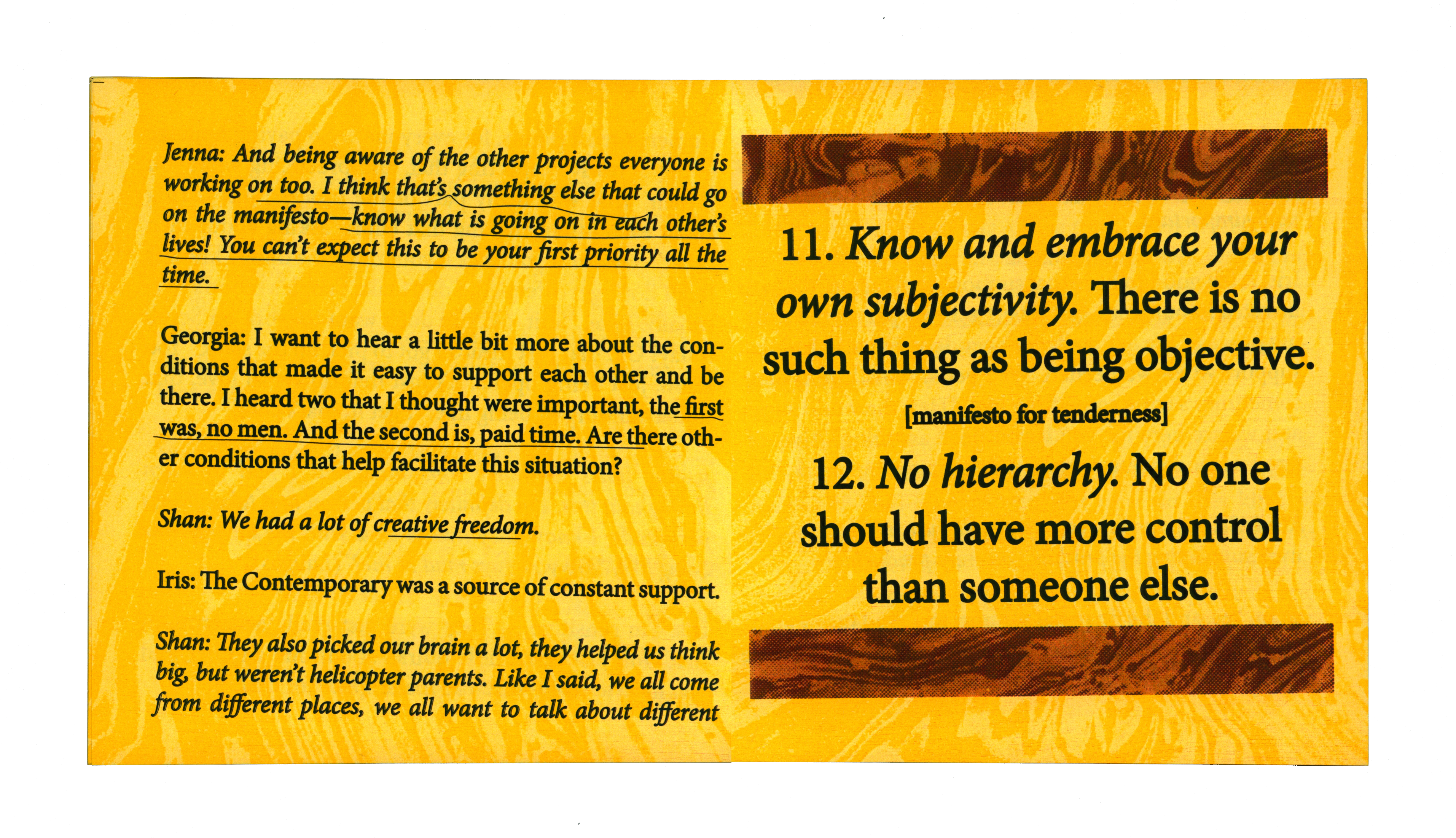 Manifesto for Tender Collaborative Work includes a conversation with Shan Wallace, Iris Lee, and Jenna Porter about practices for tenderness within collective projects. It was co-published by Press Press and Temporary Art Review.


---
blobwork: a vision of contemporary art practice & engagement (2015)
blobwork, my undergraduate thesis text, proposes a vision of a blob-based art practice: one that grows out of and evolves through its engagement with its site and people.