if we choose to reclaim ourselves from the ashes
a eulogy turned dance hall at the Lainer Family Gallery, University of California, Los Angeles


a night of release...
If we choose to reclaim ourselves from the ashes
transforms the Lainer Gallery into a nightclub and subsequently re-envisions its location, the UCLA Margo Leavin Graduate Art Studios, as a massive concrete tomb. The opening party features music by DJ Hoeteps and SkekMal; drinks by Amanda Kikhuff; wardrobe suggestions and scarves by Bokeum Jeon; and a eulogy by Kimi Hanauer co-performed with Jackie Amezquita, Lukaza Brafman-Verrissimo, Kearra Amaya Gopee, and Katie Gritilian.
If we choose…
calls on those who gather within it to reclaim ourselves, our labor, our joy, and our agency from the arms and aims of the power-hoarding institutions that we constitute. Through public, celebratory, and intimate modes of gathering, the project aims to hold space for grief and necessary processes of release within this period of collective undoing. Through our gathering—our being with and bearing witness—we make a portal for reclaiming ourselves from the ashes of the world as we know it.
Within the remnants of the party, in the weeks following the opening celebration, community members are invited to participate in
Chrysalis Sessions
, programs hosted by the
Center for Liberatory Practice & Poetry
. Event details are subject to change pending COVID-19 safety precautions.
opening celebration wardrobe suggestions
by Bokeum Jeon
—Eclipse—Flames—Ashes—

—Chrysalis—Rebirth—Bloom—

—Dance—Disco—

—Party—

'formal' with a twist: pop-of-color, reflective/shimmer

colors:black-pink-white

layers: ability-to-transform

shoes: ready-to-stomp&dan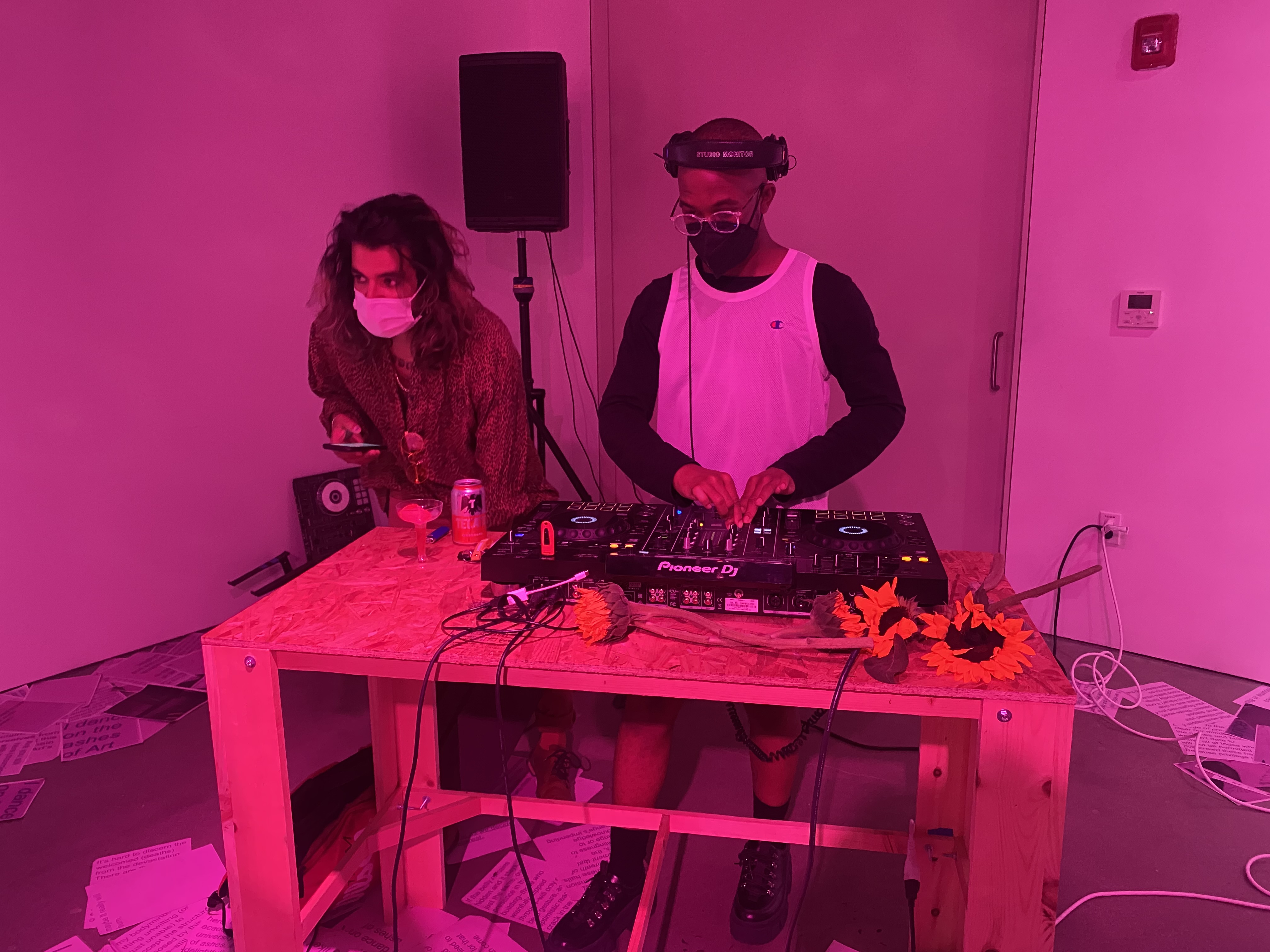 ---
chrysalis sessions
Hosted by the
Center for Liberatory Practice & Poetry
, Chrysalis Sessions are workshops and programs that activate the remenants of the opening night's celebration.
Tuesday, June 7th, 5 - 7 PM
PARSING OUR EXITS AS CARE: QUEER FUNERALS & POST-LIFE PRACTICALITIES

Lets (re)imagine our exits: deaths & funerals—as an act of care towards our loved ones, communities, and selves. How can confronting death's inevitability yield agency for queers today? In this workshop, we will be addressing components of post-life: from will-writing to digital asset management to commemorative playlists, and on. Facilitated by Emary Parisi.
Trigger warning:
discussions around death and funerals.
Tuesday, June 14th, 5 - 7 PM
WEAVING OUR VALUES & PRACTICES
The Center for Liberatory Practice & Poetry's Values & Practices are a living and breathing set of agreements that invite those of us who gather through the Center to ground ourselves within a collectively-sourced vision of autonomous and liberated communities. At this workshop, we will reflect on the intuitions, embodied knowledge, and emotional sensibilities that guide us through everyday life. Through this process, we will surface values and practices that have personal significance to each of us. Attendees will be invited to contribute their reflections to be published on the Center's online resource library. Facilitated by Kimi Hanauer.
Saturday, June 18th, 2 - 4 PM
DANCING THROUGH PRISON WALLS DANCE JAM

Please join us for the first in-person iteration of Dancing Through Prison Walls' weekly dance jam co-hosted by choreographer Suchi Branfman and a crew of formerly incarcerated and "free world" folks who have been dancing together virtually since March 2020. Coffee & cookies provided by
Skid Row Coffee.
---
Installation Images
---
Video Description 1: Fast paced images of a pink flier and with illegible purple text burning on a concrete background. "Stay high again.." by Brittany Howard plays in the background of Kimi's voice saying, "I'm here to dance on the ashes of Art. Pretend it's in ashes and dance. If we pretend hard enough, maybe it really will burn. Because some deaths are necessary for new worlds to grow. In this here, here, in the here of academy, of university, of Art and of ashes, I / We delightfully engage in the cruel optimism of mistake–not the fantastical mistakes of divergence and rebellion that could burn these walls to the ground–but the institutionalized fantasy of mistaking trends for change, mistaking performance for action, mistaking critique for care… If I wasn't dancing, I'd be screaming: being an artist has always meant trying to get free." Background music: "Stay High again.." by Brittany Howard, Fred again.. and Joy Anonymous, 2021.

Image descriptions in process.

Installation images by Sai Tripathi.